Recently, several reports have dwelled on the issue of the Iranian threat posed to the US and the west.
The reuters article titled "Iran's Revolutionary Guards warn US against terror designation, new sanctions" describes how a senior commander in Iran's Revolutionary Guards, Armed forces chief of staff Major General Mohammad Baqeri, threatened the US that if it designated the IRGC as a terrorist organization and applied new sanctions its action could be perilous for US forces in the region. The exact terminology he used was that such an action "will be a big risk for America, its bases and its forces deployed in the region".
Let us understand this. The US is warned not to designate the IRGC as a terrorist organization, even if it is, so as not to endanger its own forces. If that is not a threat, then what is a threat?
In a separate reuters article titled "US should move bases away if it pursues sanctions – Iran guards" quotes Revolutionary Guards commander Mohammad Ali Jafari threatening that the US "will pay a high price for any miscalculations". He stated this in the context of the distance of American bases from Iran military capabilities. The pentagon responded by stating that the US had no intention of moving its bases. In the same article even the moderate President Rouhani is quoted stating that "Iran would have an appropriate response to the sanctions", without elaborating. One can only ponder what "an appropriate Iranian response" is – whether it be a terrorist attack or a military strike or something else.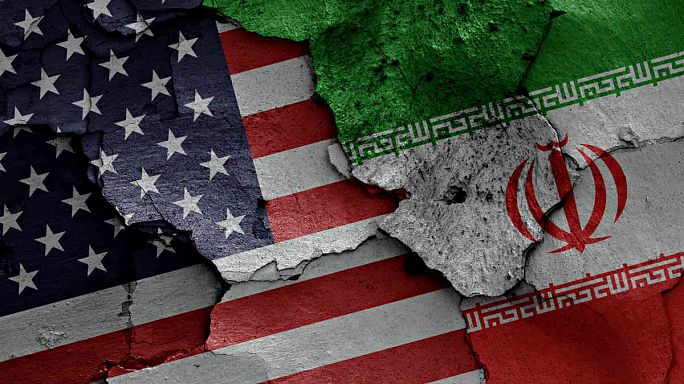 As reported in nationalinterest, Iran's foreign minister joined the crowd when he threatened that Tehran can withdraw from the nuclear deal. The underlying message is that Tehran can renew its centrifuge spinning and nuclear arms ambitions, in just a jiffy.
But that's not all. As reported in freebeacon, Iran threatened also to depose president Trump. The threat was made in a military context, understood to hint to the Iranian missile capabilities. The article connects the statement to the readiness of Iranian missiles to hit US forces and bases in the region.
Taking into consideration the growing US-Iran proxy fight in Syria as reported in theatlantic, the suspected collision course between the US and Iran in Iraq and Syria as reported in the washingtonpost, the continued navy altercations as reported in abcnews, and the Iran linked cyber warfare threat as reported in reuters, it would seem that Iran has multiple zones and multiple options for action. They can also do it via proxy, thus preventing direct accusation and retaliation.
Apparently, the confrontation has already begun. Message heard, according to the senior foreign policy advisor quoted stating "the Trump Middle East team knows exactly how and where the Iranians are waging war against the US and our allies". (see in freebeacon).