Checking in on Iran and its meddling in the Middle East, it's apparent that no change for the better has come over the Islamic State. Yousef Al-Otaiba, the United Arab Emirates ambassador to the United States, recently said as much in a special op-ed in The Wall Street Journal, analyzing the situation in the region "One Year After the Nuclear Deal". Right beneath this headline was written a warning ("Don't be fooled") and Al-Otaiba's ultimate conclusion: that "the Iran we have long known – hostile, expansionist, violent – is alive and well."
Testing the prediction that Iran would change for the better as a result of the deal, which was announced just over a year ago, Al-Otaiba questioned whether the JCPOA had really made the world a safer place – and "sadly," reached the opposite conclusion. The senior diplomat listed all of Iran's machinations in the region in the past year – from provocations such as ballistic missile tests to its hypocrisy on and deep involvement in Syria – as proof of Iran's "dangerous and disruptive" behavior.
But that's not the only proof. There's more, and it's horrific: after sending thousands of Afghan refugees to fight in Syria, Iran has upped its efforts to, of all things, recruit Iranian teenagers, as Washington Times reports.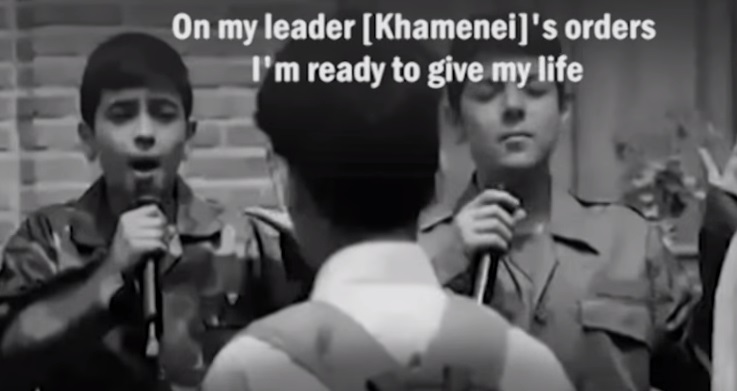 The National Council of Resistance of Iran (NCRI) also recently reported, that the Basij (an arm of the IRGC) has embarked on a propaganda campaign in Iranian state media to encourage children to join the war effort (in other words: become cannon fodder) to "save" Bashar Assad, busy committing war crimes against his people, and the Shi'ite holy shrines, which are nowhere near the Iranian fighting lines near embattled Aleppo.
In a video clip from the campaign, young children in fatigues can be seen singing that they are ready to give their lives on the orders of Supreme Leader Ali Khamenei – even as Iran sends more and more elite troops to fight in Syria. While this would be considered tragic elsewhere, in Iran it is seen as an unapologetically legitimate campaign: the children announce that they are "parting" with Iran and going elsewhere, from Iraq and Syria to Jerusalem. They liken themselves to birds, but are not flying anywhere; rather, they are marching "on foot" across the Levant, clad in their "martyrdom shroud." As the NCRI noted, the campaign is reminiscent of Iran's attempt to use children to clear minefields during the Iran-Iraq war; how heart-wrenchingly ironic that they are now being enlisted to join the same "monstrous" (as termed by Reuters) pro-Assad war effort which just this month "rained death" on dozens in a children's hospital.